Welcome to delish pet treats online shop.
Antler Dog Treats
00238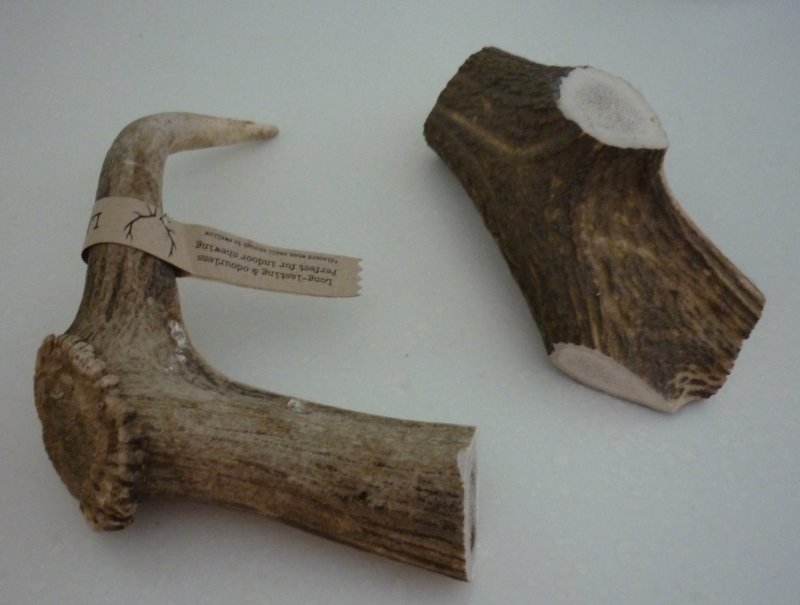 Antler dog treat chews.
Antler dog treat chews are natural, healthy, and long-lasting chew toys that will help keep your dog busy and out of trouble and keep his teeth clean. All Australian long lasting dog treat.
Cruelty free - the deer aren't killed or even hurt in the process. Male deer grow a new set of antlers each year and the mature antlers fall off naturally to make way for the new pair coming through.
Long-Lasting: Antler chews last much longer than bully sticks or chews made of compacted starch or rawhide, yuk.
Safe chewing: Deer antlers for dogs are much less likely to chip or splinter than processed bones as the chewing grinds the antler chew down slowly. Please use caution with aggressive chewers. (See safety hint below).
Healthy: Chew antlers contain many beneficial nutrients, calcium and phosphorous for healthy and strong bones and definitely nothing artificial.
Odor and stain-free: Antlers have virtually no odor or residue to get on your carpet or furniture, ideal inside treat.
Variety: Antler vary in shape, thickness and color. No two are alike. A variety chew your dog will enjoy.
Safety Hints
When giving your dog an antler or any hard dog chew, we recommend the following:
Match the size of the treat to the size of you dog. Not small enough to swallow. When ordering leave the breed of you dog in the comments section, we can then match the best shape antler for your dog.
Supervise your dog. Do not allow your dog to attempt to break the chew in half with his back teeth.
Give as a treat for a controlled period each day for about an hour. Limit your dog to grind down about 1cm of antler per few days.

They wont be happy but take the antler away once it is small enough for them to swallow whole, some dog cant resist them.
If you need to get the antler away from your dog and he doesn't know "drop it", you can trade him for a tasty treat such as a piece of cheese or one of our other dog treats.

If your dog is not interested at first, soaking in water overnight, or maybe a little peanut butter and Vegemite?