Belle's Scoobie Chews
00234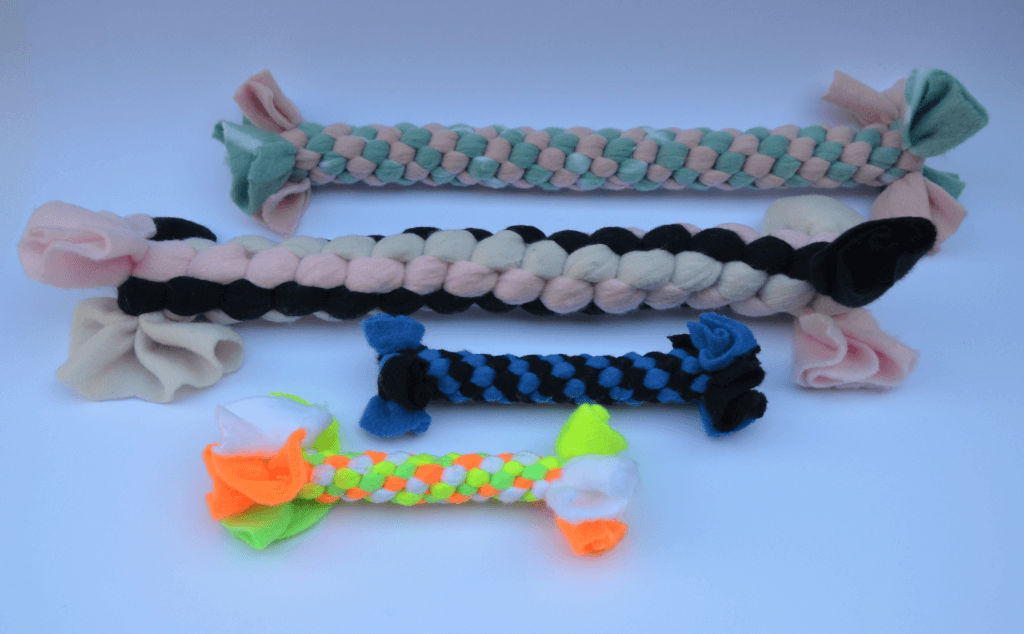 These Scoobie Chews Dog tug toys are great.
Made from strong but soft polyester cloth, these are certainly very tuff. Rope toys offer the best bang for your buck, and are OUR favourite type of dog toy.
Many people are amazed when they pick them up for the first time, as they are very solid, and ask "what's in the middle." Our answer......nothing. Uniquely crafted, each knot is individual, pulled tight and then another knot and so one. If one knot is chewed through it can't unravel, it just keeps together. Great dental toys as you fur baby can safely sink their teeth into this to help keep their teeth and gums clean and health.
Now I'm knot (pardon the pun) saying that you should throw away all you other dog toys, I don't know how many times I've heard "I have to get out of these shoes, they are hurting my feet" and the shoes don't end up in the bin do they. Different toys mean different things to you pup, some can be used as a sleeping buddy or help to calm an anxious hound, but if you're looking for a good quality, value for money toy to add to your collection why not give Scoobie Chews a go, you won't be disappointed.
Mini for mini but mighty breed's. 12-14cm long 5-7cm circumference. Round shape.

Small for small but feisty hounds. 28-30cm long 7-9cm circumference. Round Shape.

Medium for medium but forceful pups. 30cm long 10cm circumference. Round shape.

Large for large but lively mutts. 28-30cm long 11-13cm circumference. Round/Square shape.


Jumbo for giant but glorious pooches. 65-70cm long 9cm circumference. Round Shape.
Who's been a good boy or girl then? Buy all your dog treats, cat treats here online or @the markets, always at the best price.
Dog Treats
Every dog deserves a reward now and again; whatever kind of treat you prefer, we're sure to have an option to suit your precious pooch!
Cat treats
Kitty cats can sometimes be a little fussy (a little fussy!). We have them covered with our range of cat treats.  All natural treats that are delicious and healthy to give to your feline friend.
All Natural Dog Treats
With wholesome natural ingredients and no added nasties, natural dog treats are a healthy and guilt-free way to reward your dog. Lots with single protein.
Dental Dog Treats 
Dental treats are a great way to look after your dog's dental hygiene. Chewing on treats like cow hooves or deer antlers can help to reduce plaque and tartar buildup and help maintain healthy teeth and gums. Biscuit Dog Treats Biscuit treats are great for training reward. You're sure to find something tasty to tempt your dog. Show them you love them!
Lasting Treats
Long-lasting treats like antlers and hooves are a great way to keep your dog out occupied and help care for their teeth and gums. Cow hooves can be filled with their favorite like peanut butter to keep them amused for hours. On those hot summer days, simply fill them with water a few dried dog treats or kibble, freeze and they have their very own cooling doggy popsicle.
Jerky Treats- Meaty Treats – Fishy Treats
Rich in protein and a true meaty taste, Kangaroo jerky, beef lung, kangaroo lung livers and fish are sure to put a wag in their tails.