Welcome to delish pet treats online shop.
Cow Hooves - Twin pack
00201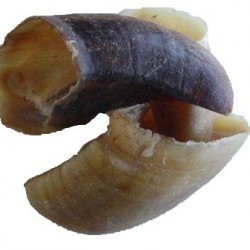 Australian natural, dried Cow Hooves.
Cow hooves are some of the longest lasting dog treats we have. They are weighty and if you have a dog who constantly wants to be chewing on something then this is the treat.
You can stuff these with dog food and freeze them and my dog loves them!
Dog Treat Use: A hard long lasting treat, Keep teeth and gums healthy.
100% Australian cattle Cow Hoof, No Preservatives.

Cautionary Note: These are very very very hard.
If you pup suffers from problem teeth maybe safer to choose another treat.