Dr Zoo Conditioner for Itchy Pets - 500ml
00205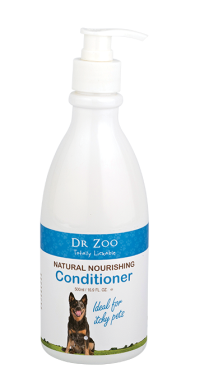 Itchy Dog Conditioner
Dr Zoo Conditioner is especially formulated with natural, edible oils that both moisturise the skin and condition the coat. Many hair conditioner products contain silicone-based ingredients that can coat the hair for a synthetic conditioned feeling, but can build up on the hair over time. Our formula contains Jojoba Oil, which is not only a great fur moisturiser but it is also a light, natural oil that won't weigh down t
Oils alone tend to sit on the surface of the skin. Combining oils with water (using an emulsifier) helps the oils penetrate and moisturise the skin properly

Jojoba Oil
Is one of the most moisturising skin care oils and is one of our all-time favourite moisturising oils. It is light and natural moisturising that sinks into the skin easily and it helps keeping the fur smooth and soft

Behentrimonium Methosulfate (Canola Based Conditioner)
Rapeseed Oil Derived Detangler. Terrible name but one of the best natural conditioners for fur. Most conditioners use silicone to coat the hair in slipperiness which can also cause build-up. We use this ingredient in combination with Jojoba Oil instead.

Glucose Derived Cleansers: Decyl Glucoside, Coco Glucoside and Lauryl Glucoside
Glucose derived cleansers and the mildest cleansers and the most edible. In fact, they have about the same irritation score as water. Using three different types instead of just one is a way to make the overall formulation even milder.

Olea Europaea (Olive) Fruit Oil.
Wonderfully healthy for the skin. So many benefits, it might be best to Google "Olive Oil Skin" instead.

Piroctone Olamine
Is an anti-yeast ingredient. Non-irritating, it helps keep the product free from bacteria and mould.

Fragrant Oil (Phthalate free).Fragrant Oil (Phthalate free).
Same one that we used in our MooGoo formulas. Sooth and smell nice without any allergies or reactions.

Allantoin.
Most people are familiar with the healing properties of Comfrey Root. Scientists identified the key compound responsible for this as Allantoin. It is now possible to buy purified Allantoin to help with skin recovery.
Who's been a good boy or girl then? Buy all your dog treats, cat treats here online or @the markets, always at the best price.
Dog Treats
Every dog deserves a reward now and again; whatever kind of treat you prefer, we're sure to have an option to suit your precious pooch!
Cat treats
Kitty cats can sometimes be a little fussy (a little fussy!). We have them covered with our range of cat treats.  All natural treats that are delicious and healthy to give to your feline friend.
All Natural Dog Treats
With wholesome natural ingredients and no added nasties, natural dog treats are a healthy and guilt-free way to reward your dog. Lots with single protein.
Dental Dog Treats 
Dental treats are a great way to look after your dog's dental hygiene. Chewing on treats like cow hooves or deer antlers can help to reduce plaque and tartar buildup and help maintain healthy teeth and gums. Biscuit Dog Treats Biscuit treats are great for training reward. You're sure to find something tasty to tempt your dog. Show them you love them!
Lasting Treats
Long-lasting treats like antlers and hooves are a great way to keep your dog out occupied and help care for their teeth and gums. Cow hooves can be filled with their favorite like peanut butter to keep them amused for hours. On those hot summer days, simply fill them with water a few dried dog treats or kibble, freeze and they have their very own cooling doggy popsicle.
Jerky Treats- Meaty Treats – Fishy Treats
Rich in protein and a true meaty taste, Kangaroo jerky, beef lung, kangaroo lung livers and fish are sure to put a wag in their tails.