Welcome to delish pet treats online shop.
Dr Zoo Crusty Nose, Itchy Toes Butter.
00172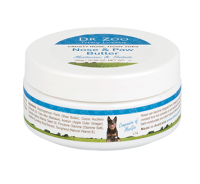 For Dogs with Dry Cracked Noses and Paws - 70g
Paw Butter that is designed to moisturise and protect dry cracked noses and dry, itchy paws.
Paw pads can become dry and cracked from hot concrete or can be itchy from a variety of natures elements.
With Shea Butter and Hemp oil, this butter moisturisers your pets nose and their paw pads ready for roaming the streets again. Moisturises and protects dry, cracked noses and paws.
Ingredients
Shea Butter, Purified Water, Coconut OIl, Cetearyl Alcohol, Rhus Succedanea Fruit Wax, Apple Cider Vinegar, D-Alpha-Tocopherol, Piroctone Olamine, Hemp Seed OIl, Polysorbate 60, Allantoin, Hops Extract