Welcome to delish pet treats online shop.
Dr Zoo Ichy Dog Shampoo- 500ml
00156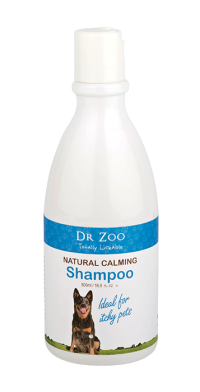 Best Dog Shampoo for itchy Dogs.
Many Pets can become itchy due to a variety irritants on their skin. Dr Zoo Shampoo combines non-irritating natural cleansers with colloidal rice bran to calm the skin. We then add a mix of ingredients to balance the micro-flora and natural esters for a shiny coat. Perfect. Have you ever noticed most websites only display their nicest sounding ingredients?
Suitable for most pets not just dogs.
Ingredient
Glucose Derived Cleansers:
Decyl Glucoside, Coco Glucoside and Lauryl Glucoside Glucose derived cleansers and the mildest cleansers and the most edible. In fact, they have about the same irritation score as water. Using three different types instead of just one is a way to make the overall formulation even milder
Coconut Derived Cleansers:
Coco Betaine, Sodium Cocoyl Sarcosinate and Sodium Lauroamphoacetate. Although Glucose based cleansers are amazingly mild, they are not as good at cleaning deep in the roots. Coconut based cleansers are also mild but better at cleaning down there. Again by using three instead of one, the mildness on the skin is increased.
Colloidal Rice Bran.
Well known skin calming ingredient for pets
Aloe Vera
A skin calming ingredient
Glyceryl Oleate
A glycerine based ester which is edible and helps condition the skin and the hair.
Coco-Caprylate
An organic coconut based hair conditioner to help product the white, shiny coat
Allantoin
Most people are familiar with the healing properties of Comfrey Root. Scientists identified the key compound responsible for this as Allantoin. It is now possible to buy purified Allantoin to help with skin recovery
Piroctone Olamine.
Helps keep the shampoo pure and fresh
Citric Acid
Fruit based acid which is used to match the pH of Dr Zoo Shampoo to that of pets