Welcome to delish pet treats online shop.
Dr Zoo Irritable Skin Balm - 120g
00171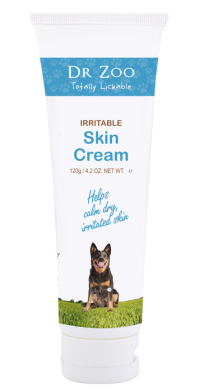 Dog Skin Problems- Irritable skin Cream.
Although a good quality shampoo can help prevent irritation for pets with sensitive skin, shampoo is rinsed off after a short period.
Sometimes a balm can be useful to gently moisturise and calm itchy spots on the skin.
Great for puppies, adult dogs and most pets. All edible ingredients.
Apply cream to affected areas as often as required. If Symptoms persist consult your vet. As with all natural products, patch test first to check for allergies.
Ingredient-
Purified Water
Oils alone tend to sit on the surface of the skin. Combining oils with water (using an emulsifier) helps the oils penetrate and moisturise the skin properly.
Sweet Almond Oil
One of the best moisturising oils for dry skin due to its fatty acid profile. Nut oils have the proteins that can cause allergies in humans removed.
Olive Oil
Another excellent edible oil for calming irritable skin.
Colloidal Rice Bran.
As used in our shampoo, Colloidal Rice Bran l is proven to be great at calming skin.
Cetearyl Alcohol and Poysorbate 60.
Food grade emulsifiers which hold the water and oil together.
Centella Asiatica Herb tincture.
Helps return irritable skin to a healthy condition.
German Chamomile Flower Extract.
For calming skin.
Aloe Vera.
Helps calm dry skin.
Natural Vitamin E. ( D-Alpha-Tocopherol)
Natural Vitamin E. Promotes healthy skin.
Piroctone Olamine
Helps keep the balm sterile.
Xantham Gum
Food grade gum which helps keep the balm stable.
Hop Extract
This helps keep the balm sterile without using synthetic preservatives. We believe it should be assumed all dogs will ingest their skin care products 🙂