Welcome to delish pet treats online shop.
Dr Zoo Lose the Groupies - 200ml
00173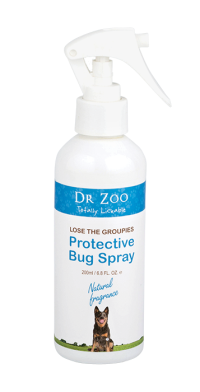 Dog Insect Spray.
Lose the Groupies 200ml - Outdoor Spray for dogs and other pets often attract annoying groupies around their eyes and ears. How does an owner help keep their pet happy without spraying chemicals into these areas? "Lose the Groupies" is a special fragrance that groupies aren't attracted to.
It is not a chemical spray. This means it can be sprayed around the face of your pet when outdoors.
Perfect for outdoor pets.
Spray Lose the Groupies on your pet whenever he or she is being annoyed by hangers on. Their doggy friends may laugh at the pretty smell, but who will be laughing when the blood suckers come out to play (Be liberal, it works by smell) As with all natural products, patch test first to check for allergies.
Ingredients
Aqua, Borago Officinalis (Borage) Seed Oil, Coco-Capylate, Polysorbate 20 (Food Grade Emulsifier), Fragrant Oil (Phthalate Free & Low Allergy) Celery Seed Extract, Lemon Grass Oil, Hop Extract.