Dr Zoo Ruff to Fluff Dry Shampoo 270g
00204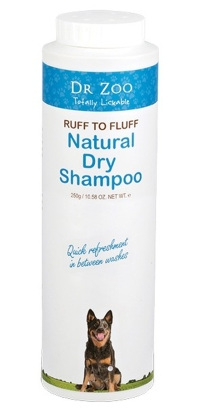 Dry Dog Shampoo. Suitable for all pets.
Dogs, cats and other pets often run for the hills when it's time for a bath. Dr Zoo Dry Shampoo is designed to quickly freshen your pet without the major ordeal a wet bath can sometimes become. Our powder formula naturally freshens up your pet in between their normal wash by absorbing oils, odours and dirt that can cause our pets to look and smell like something the cat dragged in. Containing a phthalate free, low irritant fragrant oil (some essential oils don't suit animals) your pet will smell as fresh as a daisy! Easy on the eyes, easy on your nose.
Great for dogs, cats and most pets, even guinea pigs. Also great for the Glamour Puss that dislikes being washed.

Directions

No need for water, simply sprinkle powder onto your pet's fur and rub through giving your pet a good scratch and massage at the same time. Leave for 5 to 10 minutes then brush or blow dry out to remove excess powder.

Ingredients-

Tapioca Powder.
Great for absorbing odour caused by natural oils from the skin.

Sodium Bicarbonate (Baking Soda).
For a healthy and shiny coat. A natural replacement of Talc.

D Panthenol.
For a healthy and shiny coat.

Colloidal Rice Bran.
As used in our shampoo, Colloidal Rice Bran l is proven to be great at calming irritated skin0

Allantoin.
Most people are familiar with the healing properties of Comfrey Root. Scientists identified the key compound responsible for this as Allantoin. It is now possible to buy purified Allantoin to help with skin recovery0

Fragrant Oil (Phthalate free).
Same one that we used in our MooGoo formulas. Sooth and smell nice without any allergies or reactions.
Who's been a good boy or girl then? Buy all your dog treats, cat treats here online or @the markets, always at the best price.
Dog Treats
Every dog deserves a reward now and again; whatever kind of treat you prefer, we're sure to have an option to suit your precious pooch!
Cat treats
Kitty cats can sometimes be a little fussy (a little fussy!). We have them covered with our range of cat treats.  All natural treats that are delicious and healthy to give to your feline friend.
All Natural Dog Treats
With wholesome natural ingredients and no added nasties, natural dog treats are a healthy and guilt-free way to reward your dog. Lots with single protein.
Dental Dog Treats 
Dental treats are a great way to look after your dog's dental hygiene. Chewing on treats like cow hooves or deer antlers can help to reduce plaque and tartar buildup and help maintain healthy teeth and gums. Biscuit Dog Treats Biscuit treats are great for training reward. You're sure to find something tasty to tempt your dog. Show them you love them!
Lasting Treats
Long-lasting treats like antlers and hooves are a great way to keep your dog out occupied and help care for their teeth and gums. Cow hooves can be filled with their favorite like peanut butter to keep them amused for hours. On those hot summer days, simply fill them with water a few dried dog treats or kibble, freeze and they have their very own cooling doggy popsicle.
Jerky Treats- Meaty Treats – Fishy Treats
Rich in protein and a true meaty taste, Kangaroo jerky, beef lung, kangaroo lung livers and fish are sure to put a wag in their tails.