Welcome to delish pet treats online shop.
Finger Dog Toothbrush pack
00190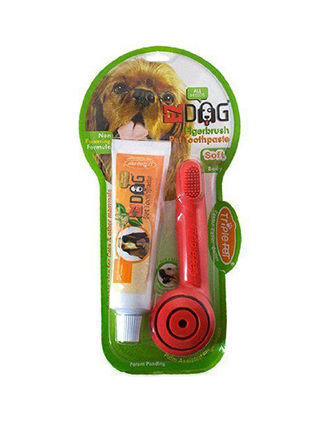 Dog Toothbrush Pack.
This unique dog toothbrush receives high praise from dog owners for constructing a finger toothbrush.
The new design possesses a unique ergonomic design that places less stress on the fingers and wrists of dog owners and lets you get all the way in the back of your pet's mouth without worrying about a slippery toothbrush handle. Use it with natural flavored toothpaste for an experience your pet will love.
Dogs enjoy the reverse angle handle that allows the toothbrush to slide into the mouth effortlessly. The reverse angle and ergonomic design also reduces the possibility of dogs choking on the finger brush.

Ingredients: Water,Sorbitol,Hydrated Silica,Glycerin,Kaolin, Tetrapotassium Pyrophosphate, Vanilla, Xanthan,Gum,Stevia and Tea Tree Oil.