Welcome to delish pet treats online shop.
Petway Aroma Care Shampoo with Vitamin E - 250ml
00055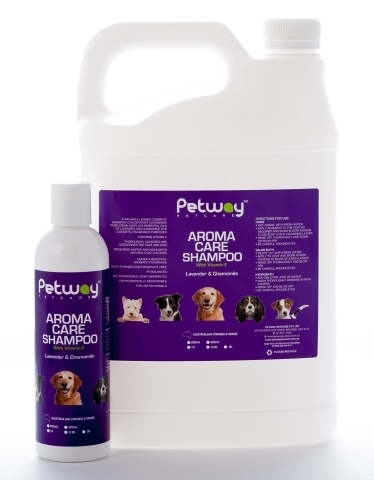 Aroma Care Dog Shampoo.
Petway Petcare Aroma Care Shampoo with Vitamin E an excellent naturally based, cosmetic shampoo concentrate containing pure steam distilled Essential Oils of Lavender and Chamomile for cosmetic fragrance purposes. Lavender is a natural soother and relaxer and Chamomile provides natural coat and skin conditioning qualities. Developed for pet industry professionals and pet lovers who appreciate Aroma Care. Use in conjunction with Petway Petcare Aroma Care Cologne. Thoroughly cleanses and deodorises the coat and skin. Brightens and highlights natural coat colours. Leaves a beautiful aromatic fragrance.
More Information:
A concentrated formula for use on animals with normal skin types.
Totally Bio-degradable and free of any nasty phosphates, parabens, enzymes and soaps.
PH balanced to help to clean for pets coat without irritation.
Made environmentally responsible and is Animal cruelty free.