Petway Gentle Protein Shampoo with Aloe Vera - 250ml
00207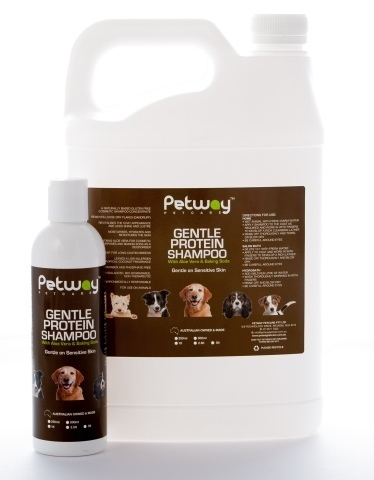 Gentle dog Shampoo
Petway Petcare Gentle Protein Shampoo & Baking Soda is a naturally based, gluten free, cosmetic shampoo concentrate. Great for use on animals with sensitive skin. Also an ideal shampoo for drop coat breeds. It contains a natural protein to moisturise, hydrate and retexture the skin and Baking Soda as a deodoriser to eliminate doggy smells and Aloe Vera for cosmetic purposes. Safe for use on animals with sensitive skin. It removes loose dry flakes (dandruff), revitalises the coat appearance and adds shine and lustre. It thoroughly cleanses the coat and skin and leaves a low allergen tropical coconut fragrance. Companion product to Petway Petcare Gentle Protein Conditioner and Petway Petcare Coconut Coat Gloss Cologne.

More Information:
A concentrated formula for use on animals with sensitive skin types.
Totally Bio-degradable and free of any nasty phosphates, parabens, enzymes and soaps.
PH balanced to help to clean for pets coat without irritation.
Made environmentally responsibly and is Animal cruelty free.
Who's been a good boy or girl then? Buy all your dog treats, cat treats here online or @the markets, always at the best price.
Dog Treats
Every dog deserves a reward now and again; whatever kind of treat you prefer, we're sure to have an option to suit your precious pooch!
Cat treats
Kitty cats can sometimes be a little fussy (a little fussy!). We have them covered with our range of cat treats.  All natural treats that are delicious and healthy to give to your feline friend.
All Natural Dog Treats
With wholesome natural ingredients and no added nasties, natural dog treats are a healthy and guilt-free way to reward your dog. Lots with single protein.
Dental Dog Treats 
Dental treats are a great way to look after your dog's dental hygiene. Chewing on treats like cow hooves or deer antlers can help to reduce plaque and tartar buildup and help maintain healthy teeth and gums. Biscuit Dog Treats Biscuit treats are great for training reward. You're sure to find something tasty to tempt your dog. Show them you love them!
Lasting Treats
Long-lasting treats like antlers and hooves are a great way to keep your dog out occupied and help care for their teeth and gums. Cow hooves can be filled with their favorite like peanut butter to keep them amused for hours. On those hot summer days, simply fill them with water a few dried dog treats or kibble, freeze and they have their very own cooling doggy popsicle.
Jerky Treats- Meaty Treats – Fishy Treats
Rich in protein and a true meaty taste, Kangaroo jerky, beef lung, kangaroo lung livers and fish are sure to put a wag in their tails.