Welcome to delish pet treats online shop.
Petway Gentle Protein Shampoo with Aloe Vera - 250ml
00207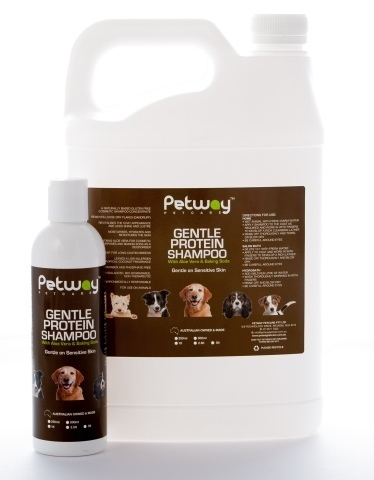 Gentle dog Shampoo
Petway Petcare Gentle Protein Shampoo & Baking Soda is a naturally based, gluten free, cosmetic shampoo concentrate. Great for use on animals with sensitive skin. Also an ideal shampoo for drop coat breeds. It contains a natural protein to moisturise, hydrate and retexture the skin and Baking Soda as a deodoriser to eliminate doggy smells and Aloe Vera for cosmetic purposes. Safe for use on animals with sensitive skin. It removes loose dry flakes (dandruff), revitalises the coat appearance and adds shine and lustre. It thoroughly cleanses the coat and skin and leaves a low allergen tropical coconut fragrance. Companion product to Petway Petcare Gentle Protein Conditioner and Petway Petcare Coconut Coat Gloss Cologne.
More Information:
A concentrated formula for use on animals with sensitive skin types.
Totally Bio-degradable and free of any nasty phosphates, parabens, enzymes and soaps.
PH balanced to help to clean for pets coat without irritation.
Made environmentally responsibly and is Animal cruelty free.