Welcome to delish pet treats online shop.
Petway Puppy Shampoo - 250ml
00121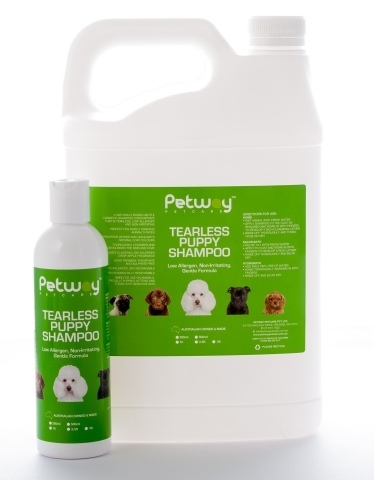 Puppy Shampoo.
Petway Petcare Tearless Puppy Shampoo a naturally based gentle cosmetic shampoo concentrate. It is tearless, non-irritating and has a low allergen delicious crisp apple fragrance. Great for puppies and kittens, perfect for safely washing animals faces and super sensitive animals. The low allergen fragrance makes it safe also for owners who suffer allergies. Brightens whites and highlights natural coat colours. Thoroughly cleanses and deodorises the skin and coat.
More Information:
For use on animals, especialy puppies, kittens and those with super sensitive skin.
Concentrated formula.
Totally Bio-degradable and free of any nasty phosphates, parabens, enzymes and soaps.
PH balanced to help to clean for pets coat without irritation.
Made environmentally responsibly and is Animal cruelty free.