Welcome to delish pet treats online shop.
Petway Skin Care Shampoo - 250ml
00060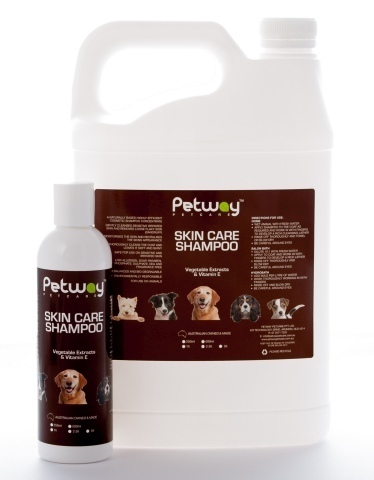 Best dog shampoo for senstive skin.
Petway Petcare Skin Care Shampoo with Vegetable Extracts and Vitamin E a gentle non-irritating, deep cleansing, naturally based, highly efficient cosmetic shampoo concentrate. Safe for use on all animals with sensitive skin or dry, scaly, irritated skin. Gently provides a deep cleanse and removes loose flaky skin (dandruff). Moisturises the skin and revitalises the skins appearance. Thoroughly cleanses the coast and leaves it soft and shiny.
More Information:
A concentrated formula for use on animals with sensitive and irritated skin.
Totally Bio-degradable and free of any nasty phosphates, parabens, enzymes and soaps.
PH balanced to help to clean for pets coat without irritation.
Made environmentally responsibly and is Animal cruelty free.