Welcome to delish pet treats online shop.
Petway Tea Tree Shampoo - 250ml
00042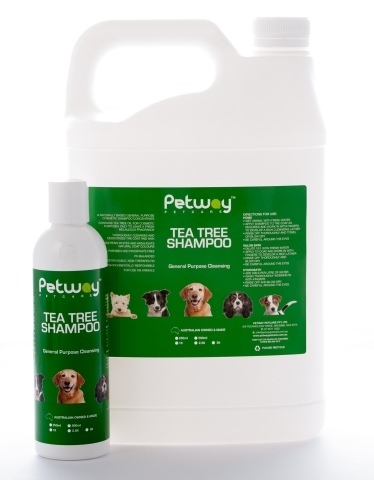 Tea Tree Dog Shampoo.
Petway Petcare Tea Tree Shampoo a naturally based, general purpose, cosmetic shampoo concentrate. Contains the highest grade pure natural tea tree oil for cosmetic purposes to leave a fresh melaleuca fragrance. It has similar properties to our Everyday Pink Shampoo; thoroughly cleanses and deodorises the coat and skin, brightens whites and highlights natural coat colours.
More Information:
A concentrated formula for use on animals with normal skin types.
Totally Bio-degradable and free of any nasty phosphates, parabens, enzymes and soaps.
PH balanced to help to clean for pets coat without irritation.
Made environmentally responsibly and is Animal cruelty free.