Welcome to delish pet treats online shop.
Petway Wicked White Whitening & Stain Removal Shampoo - 250ml
00208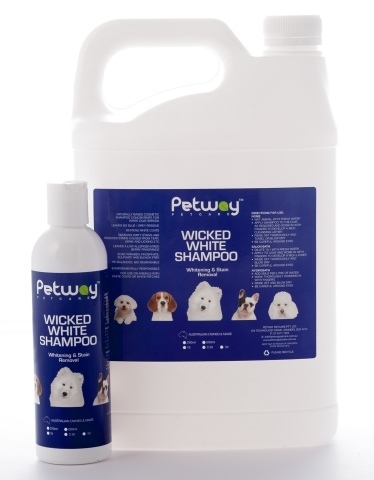 Whitening Dog Shampoo.
Petway Petcare Wicked White Whitening & Stain Removal Shampoo a naturally based cosmetic shampoo concentrate for white coat breeds, specifically formulated for more advanced whitening. It contains a stain removing agent and is blue in appearance, which whitens white coats and assists in reducing dirty stains and unsightly stains caused from tear, urine and licking. While whitening the coat, it also provides a deep cleanse to the coat and skin. Leaves no blue/grey residue and a soft baby powder fragrance.
More Information:
A concentrated formula for use on animals with normal skin types.
Totally Bio-degradable and free of any nasty Free of phosphates, parabens, sulphate, bleach and enzymes.
Low allergen fragrance
PH balanced to help to clean for pets coat without irritation.
Made environmentally responsibly and is Animal cruelty free.