Preventics Tick Collar
00123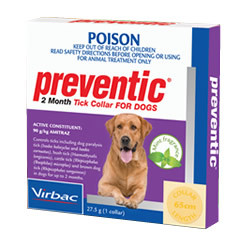 PREVENTIC 2 Month Tick Collar by Virbac.
Kills ticks, including paralysis ticks, for up to 8 weeks.
Highly effective tick protection on its own, the Preventic Tick Collar will control brown dog ticks and bush ticks. It will also provide a high level of protection and control againts paralysis ticks but as one female tick is sufficient to harm a dog the collar should not be relied upon to fully protect the dog. You need to check your fury loved one regulary especially after walks in the bush.
Do not use this product on puppies less than 12 weeks old. Consult a veterinarian before using on sick, debilitated, aged, medicated, pregnant or nursing animals. Do not use this product on dogs medicated with monoamine oxidase inhibitors (MAOIs) such as selegiline, tricyclic antidepressants such as clomipramine and SSRIs such as fluoxetine. Do not allow animals to chew the collar. Seek veterinary advice if the collar is chewed. Remove collar immediately should signs of skin irritation or other side effects occur.
DO NOT USE ON CATS.

Collar length: 60cm. Use only as per label directions.
Who's been a good boy or girl then? Buy all your dog treats, cat treats here online or @the markets, always at the best price.
Dog Treats
Every dog deserves a reward now and again; whatever kind of treat you prefer, we're sure to have an option to suit your precious pooch!
Cat treats
Kitty cats can sometimes be a little fussy (a little fussy!). We have them covered with our range of cat treats.  All natural treats that are delicious and healthy to give to your feline friend.
All Natural Dog Treats
With wholesome natural ingredients and no added nasties, natural dog treats are a healthy and guilt-free way to reward your dog. Lots with single protein.
Dental Dog Treats 
Dental treats are a great way to look after your dog's dental hygiene. Chewing on treats like cow hooves or deer antlers can help to reduce plaque and tartar buildup and help maintain healthy teeth and gums. Biscuit Dog Treats Biscuit treats are great for training reward. You're sure to find something tasty to tempt your dog. Show them you love them!
Lasting Treats
Long-lasting treats like antlers and hooves are a great way to keep your dog out occupied and help care for their teeth and gums. Cow hooves can be filled with their favorite like peanut butter to keep them amused for hours. On those hot summer days, simply fill them with water a few dried dog treats or kibble, freeze and they have their very own cooling doggy popsicle.
Jerky Treats- Meaty Treats – Fishy Treats
Rich in protein and a true meaty taste, Kangaroo jerky, beef lung, kangaroo lung livers and fish are sure to put a wag in their tails.