Welcome to delish pet treats online shop.
Preventics Tick Collar
00123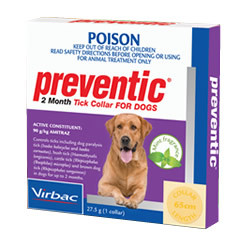 PREVENTIC 2 Month Tick Collar by Virbac.
Kills ticks, including paralysis ticks, for up to 8 weeks.
Highly effective tick protection on its own, the Preventic Tick Collar will control brown dog ticks and bush ticks. It will also provide a high level of protection and control againts paralysis ticks but as one female tick is sufficient to harm a dog the collar should not be relied upon to fully protect the dog. You need to check your fury loved one regulary especially after walks in the bush.
Do not use this producton puppies less than 12 weeks old.
DO NOT USE ON CATS.
Consult a veterinarian before using on sick, debilitated, aged, medicated, pregnant or nursing animals. Do not use this product on dogs medicated with monoamine oxidase inhibitors (MAOIs) such as selegiline, tricyclic antidepressants such as clomipramine and SSRIs such as fluoxetine. Do not allow animals to chew the collar. Seek veterinary advice if the collar is chewed. Remove collar immediately should signs of skin irritation or other side effects occur.
Collar length: 60cm. Use only as per label directions.