Welcome to delish pet treats online shop.
Skid Stop - Slow Feeder Bowl medium - large - jumbo
00155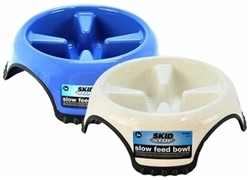 Slow feeder Dog bowl.
We have 2 Labradors and would be lost without these SkidStop slow feed dog bowl, a heavy duty plastic bowl designed to slow rapid eating and prevent bloat and discomfort for you dog. Having a rubbery base to prevent the bowl from sliding around on the floor while the dog is eating. Dishwasher safe - rust/bacteria resistant.