Welcome to delish pet treats online shop.
Triple Pet Toothbrush and Toothpaste
00080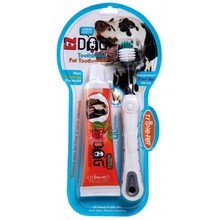 Dog tooth brush and Toothpaste pack.
Three flexible heads in this pack help reach all surfaces of the tooth with every stroke. The unique angle reducing the need for arm twisting. Soft outer bristles help massage gums and the padded handle for a better grip helping to protect your buddy.

The toothpaste has a natural sugar free vanilla flavoured, contains tea tree oil for healthy gums (sweetened by Stevia, a natural herb). Special formulated to be a non-foaming tartar control. Rinse free making this the perfect option for your dog's dental care. Avaliable in two sizes small large/small (Colour may vary).