Welcome to delish pet treats online shop.
Walking/Car Harness
00065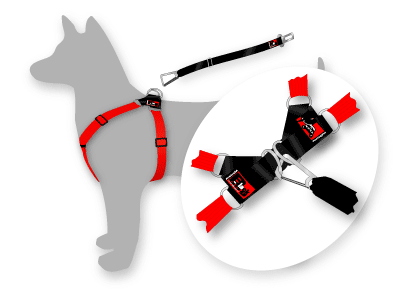 Safety first Black Dog harness.
The "Step-In" style harness is extremely easy to fit, fully adjustable, comfortable and strong.
Can be used for walking - particularly useful for dogs with neck, or throat issues. Great to restrict a dog moving around and becomming a distraction to the driver when combined with Black Dog's Car Strap(sold separately)

Dog Harness will hold a dog steady even under emergency braking from a high speed, but it is NOT INTENDED as a dog's "safety belt", as most harnesses will fail under the extreme forces generated in a car crash.
The Harness clips together with just one small buckle, yet is extremely secure when clipped to a Lead for walking, or in a car with the Car Strap.

Use a soft tape measure.

Place the tape measure around your dog's body, just behind the front legs.
Pull it to be a tight, snug fit and read off the measurement.

Now check the chart below, to select the correct size.

Small 37cm - 54cm

Medium 50cm - 74cm

Large 70cm - 110cm
Size
Small (0) Medium (0) Large (0)